Kostas Anastasiadis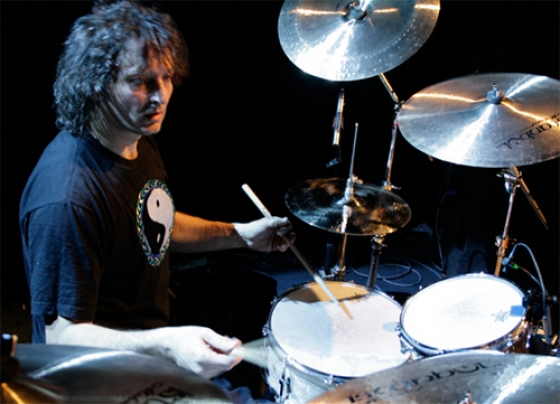 Kosta having all this years associated with heterogeneous musical ensembles, huge interest in world music scene, highlights and supports the most mature of the improvisational virtuosity, the unique pulse of a particular place in time.
Konstantinos Anastasiadis was born in Thessaloniki and raised in Kilkis.
His slope in music began from his childhood and eventually acquired his first drumset at the age of thirteen.
A self-taught musician takes part in local bands of the era and 1986 begins his professional career and collaborates with artists of his country.
In 1992, his thirst for knowledge leads him to America and takes music lessons at the Musicians Institute in California.
During the time of the semester (Percussion Institute) innovates by discovering a method called "Cycles of Rhythm" which was recognized by musicians in the highest echelons of the industry as unique, through provoking and revolutionary to the art of drum playing, such as: Jack Dejonette, Vinnie Colaiuta, Ralph Humphrey, Casey Scheuerel, Joe Porcaro, Efrain Toro, Alex Acunia. Also he receives the highest score in professional test (vocational).
He was honored from M.I.T. establishing a special award on his behalf, that of « P.I.T. Unique Individual Stylist Award ».
After finishing his studies he started teaching at M.I.T. delivering seminars and take part in live performances with Jimmy Mahlis, Kim Stown, Steve Bailey, Tim Landers, The Hellenic Sounds, Brett Garsed, T.J. Helmerich, Efrain Toro, Vasso Dimitriou etc.
In 1997 he returned to Greece and played with Theodossi Spassov, Ahmet Misirli, Levent Yildirim, Tars Lootens, Eleni Karaindrou, Thimios Atzakas, Petar Ralchev, Trilok Gurtu, Gregory Tsatsos, Thomas Siffling, Sakis Zachariades, Petros Dragoumis, Haig Yazdjian , Valeri Dimchev, Hayden Chisholm, Erkan Ogur, Milcho Leviev, Simon Nabatov, Sami Amiris, Bojan Z, Martin Gjakonovski and many others. Now he is cooperating with Kostas Theodorou, Mihalis Siganidis, Hemus Colectiv, Martha Mavroidi and his own ensembles, Didjidimensions and Kostas Anastasiadis trio.
While maintaining its roots in research, studies, searches for the delivery and development of creating a new mix of sounds and moods.
Playing with Gabriel drum set, Istanbul Mehmet Cymbals, Cympad.