George Chatzis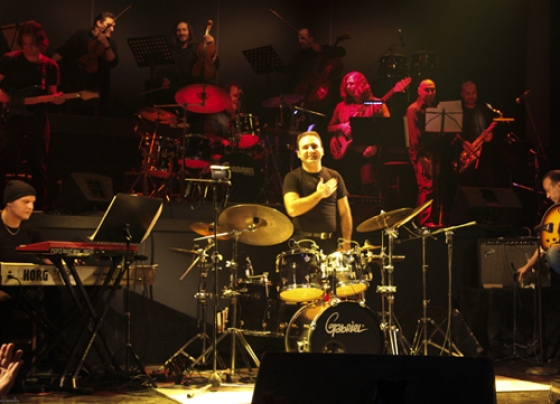 George Chatzis was 7 years old when he began studying the violin at the Athens Conservatory.
At the same time he studied percussion and drums alongside his father, Yiannis Chatzis.
He completed his studies at the Aghia Paraskevi Municipal Odeum under Odisseas Korelis and he unanimously
received his violin diploma with honors.
As a drummer he has appeared solo in many percussion festivals and in session he has teamed up
with many artists of the contemporary Greek rock and jazz repertoire. During the period 2003 to 2010
he has worked and appeared together with Agami Thite and the Italian performing duo Lucchettino.
Since 1995, he has been playing with GABRIEL DRUMS, which he has used at concerts with famous Greek artists,
as well as with George Chatzis band, while touring in Greece and abroad:
CANADA/ENGLAND/BELGIUM/ITALY/CYPRUS/ALBANIA.
As a violinist he has worked together with famous greek composers
(Mikis Theodorakis, Stavros Xarchakos, Nikos Mamagkakis and others)
in concerts and in studio. From 1997 to 1998 he was a member of the Athens Symphony Orchestra
and since 2000 he is a permanent member
of the Manos Hadjidakis Orchestra, The Orchestra of Colours. He has participated in many of the Orchestra's recordings
and he cooperates with many established artists in Greece and abroad.
George Chatzis has been composing from an early age. In the year 2002 he received
a distinction in the First Pan-Hellenic Competition for composers with his composition
The Star Sign of Cancer which competed in the Electronica/Ambient/New Age category.
He has composed music for the play The Abduction of Europe, written and composed by Dimitris Vonapartis.
George Chatzis' composition Hymn to Apollo has accompanied the arrival
of the Olympic Flame on the island of Carpathos.He has presented his work for the first time either
alone or together with the string quartet +Kinisis both at the Megaron Athens Concert Hall and in Delphi.
In 2005 he released his first album Spiritual Icons with EMI Greece,
which has been nominated as best orchestral music album during the 2006 Arion Competition.
In 2006 he takes part at the Big Chill Festival receiving very praising reviews from the British Press.
His composition After Paros Island is added to producer's Pete Lawrence Take me home compilation.
In 2007, EMI Greece releases the CD single On Vacation feat Kelly,
which has maintained a place in the top 20 for 2 weeks.
After Paros Island becomes part of Raphael Marionneau's compilation Le café abstrait '
'The Epilogue of a journey''.Since 2004, he has been teaching drums at the Aghia Paraskevi Municipal Odeum.