Christos Asonitis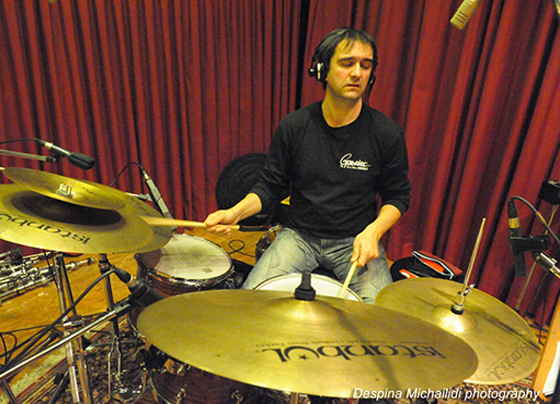 CHRISTOS ASONITIS | Drummer, Educator, Composer
BIOGRAPHY
Christos Asonitis was born in Athens-Greece in 1974. He studied at the Conservatory of Filippos Nakas in Athens-Greece under the guidance of Spyros Panagiotopoulos (drums) and Grigoris Batsis (Jazz Harmony) and at the University of Music and Performing Arts in Munich-Germany (Master of Music) where he received drum classes from Werner Schmitt, Michael Keul and additionally composition, arrangement and rhythm courses from Christian Elsässer, Gregor Hübner and Wolfram Winkel. He received private lessons for Jazz Drumming from Jeff Ballard and Billy Hart. In 2011 and 2012 he traveled to Brazil and Cuba attending master classes about Brazilian and Cuban rhythms for drum-set and percussion from educators such as: Kiko Freitas, Marcos Suzano, Robertinho Silva, Cassio Cunha in Brazil and Enrique Pla, Jose Eladio Amat and Ramses Rodriguez in Cuba. In Havana-Cuba he stayed for a total period of two months attending many concerts capturing the taste of Cuban musical tradition, meeting great musicians and appeared at the local music scene of Havana playing in jam sessions. Finally he participated in drum and rhythm clinics of Ron Savage, Efrain Toro, Robby Ameen, Antonio Sanchez, Jimmy Cobb, Casey Scheurell, Ralph Peterson and Peter Erskine.
As a musician he joined in 1995 the rock band "Suddenly" and performed at many live stages in Athens. In 1998 he began to play with the rock band of Petros Theotokatos. Together they played for three years all over Greece, making appearances on the Greek TV, participated at Rock Festivals like Athens Rockwave Festival 1998, River Party Festival 2001 and recorded Theotokatos' second album "I Eleytheria De Nikietai". From 2007 until 2012 he played with the majority of Greek jazz and latin musicians. He participated in projects such as: Jazz On T.A.P., Yorgos Krommydas Organ Trio, Yiorgos Psihoyios Group, Miranda Verouli & Desafinados, Lito Voyatzoglou Quartet, Antenor Bogea, Free Time Quartet, Swinging Fish, Black Coffee, Fabio Cruz, Yannis Arzimanoglou Gagabunga Group performing in Greece, United Arabic Emirates, Cuba and Cyprus and recording studio albums. With his jazz trio Jazz On T.A.P together with Nikos Terzakis and Yannis Papadopoulos they played at plenty of concerts in Greece, releasing in 2012 their debut album "Jazz On T.A.P" that contains exclusively original compositions. The same year he moved in Munich-Germany. Very soon he made his appearance at the local music scene. He played for the jazz quartet of the Colombian guitarist Nicolas Delgado and for "Elena Baumann & Friends" performing with them in Germany and Russia. He still plays for "Jasmin Bayer & Band" a jazz-pop project of the German singer Jasmin Bayer and for "Roma Termini Quartet" of the Italian saxophonist Alessandro De Santis. He has shared the stage with Marcio Tubino (BRA), Augusto Aguilar (PER), Chris Lachotta (DE), Davide Roberts (GBR), Peter Tuscher (DE), Cadu de Andrade (BRA), Sandra Nahabian (ARG), Yannis Karadimos (GRE), Dora Ileana Torres (CUB), Goetz Gruenberg (DE), Sava Medan (SER), Anton Berlev (RUS). During his studies at the University of Music and Performing Arts in Munich he was the main drummer of the University's Salsa Band. In 2014 he formed his own group presenting his original compositions with the main purpose to record his first album.
As an educator he worked for many years as a drum teacher and clinician in Greece (Athens, Livadia and Crete-MGS Music School of Heraklion). At the moment he teaches drums and percussion in Munich (Modern Music School and Musikinstitut GENIMA). He is an official educator of L.C.M.'s International Drum Course (London College of Music) and a freelancer drum teacher and clinician.
Christos is an endorser of Gabriel Drums, Istanbul Mehmet Cymbals and Vic Firth Drumsticks. He is a member of German Association of Artists.
DISCOGRAPHY
"Η ελευθερία δεν νικιέται» " Freedom will never be defeated"
(Petros Theotokatos – Legend Records 1999)
"Αλλάζει το φως» " The light is being changed"
(Petros Theotokatos – Legend Records 2005)
"Love Obsession A Jazz Sensation II…"
(Yiorgos Psihoyios, Polytropon 2007)
"Innaxos"
(Antenor Bogea, EMSE 2009)
"Jazzium"
(Yorgos Krommydas Organ Trio, Warner-EGE 2010)
"The Art Of Melancholy"
(Yiorgos Psihoyios, Polytropon 2011)
"Jazz On T.A.P"
(Jazz On T.A.P, Independent 2012)
"Contexto"
(Fabio Cruz, Independent 2012)
"In Paris"
(Yiorgos Psihoyios, Polytropon 2013)
" O Grande Amor"
(Free Time & Miranda Verouli, Mirror 2014)
Official Website:
www.christosasonitis.com