Basilis Karagiannis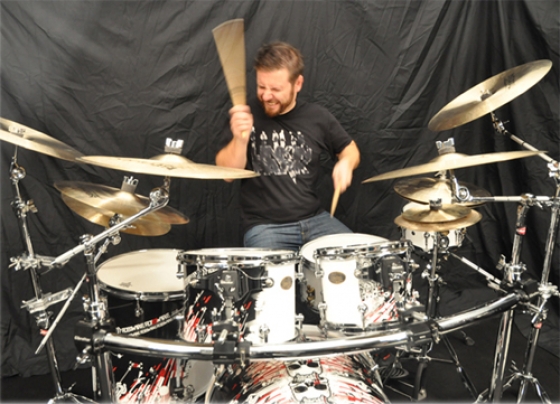 He started his very first steps in rock and metal world in 1989. His great influence in drumming came from John Bonham (Led Zeppelin) and Lars Urlich(Metallica). In 1993 , with three friends, he created the thrash metal band Sintelia. Their first piece of work entitled DIES IRAE , had very good critics from Greek magazines Metal Hammer and Metal Invader.
After a few years, in 1999 he joined the band BABYLWNA and they released the single BABYLWNA 2000 and the full length album
TA TERATA PEZOUN AKOMA. Their music and style was something new in that period of time in Greece and the success was certain.
The band made live shows in almost all of the big concert halls in Greece such as Lykavvitos, Rodon, Mylos, Veakio Theater etc.
After a 10-year break from the Greek music scene but not from his love for drumming, the year 2009 found him with more drumming skills and ready for something new and fresh:
the band FLY BY WIRE.Rock,nu metal,electro music with rap vocals are the ingredients of their music.They've already released their first full length album X-ISOSI and their first official video clip
( http://www.youtube.com/watch?v=kaOKowobnPM ).Also, they appeared live in Greek TV shows : RADIO ARVYLA (http://www.youtube.com/watch?v=izCnZzlSTWg), ESC (http://www.youtube.com/watch?v=ZDPcmhK3N0w) and MAD MUSIC AWARDS 2012. They are giving a lot of interviews in greek webzines constantly after the album and videoclip release.
FLY BY WIRE are full of power on stage and they took part in many festivals such as Agia Napa Youth Fest (Cyprus), Athens Hip Hop Fest 2011, Bandages Festival etc.
He plays with : Gabriel's Precision set 22"Χ17" – 10"Χ8" – 12"Χ9" – 16"Χ16" Snare gk 14"x6,5" ,Snare SP 10″x 5,5″ and
Istanbul mehmet cymbals.
mail : This email address is being protected from spambots. You need JavaScript enabled to view it.
facebook profile : http://www.facebook.com/billyflybywire.karagiannis